Well, it's that time of the year again! Ireland takes centre stage. And rightly so!
President Biden, the most Irish American President since John F Kennedy, launched Irish-American Heritage month on the first of March. It's a month long Irish party and the whole world is invited. St. Patrick's Day, the 17th March, when the Planet turns Green.
So this big Irish celebration, what's it all about.
St Patrick was actually a Welshman! What I hear you say. Really !!! Yeah, I know… wonder who he would support in the Rugby? He was born in the 5th Century, got kidnapped by some Irish Pirates (Captain Jack O'Sparrow ) and taken to Ireland as a slave.
So despite all of this, he grew up to be an Irish Bishop and did such a great job that we all decided to have a big mad Party every year just to celebrate him! In fairness, sure he deserves it. By the way, if you are in Ireland over St Patrick's weekend, don't tell anybody I told you he was Welsh. I will deny it… I really will. So let's just keep that one among ourselves.
Here's a picture of the Man Himself. Now it was a time before selfies, so this is taken from a Stained Glass Window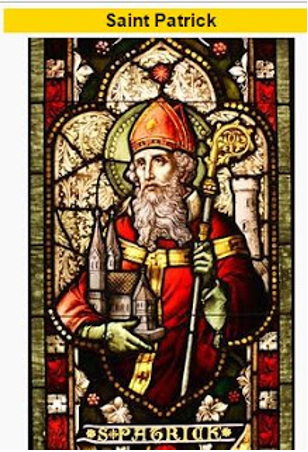 Now St Patrick's Day is celebrated all over the world. But I have to tell you, Ireland is the only place to be. This year, unfortunately it's a little bit different, but doesn't mean we can't celebrate does it? Even though you're far away we are thinking of you and raising a glass or maybe two.
Why not start planning for next year when you can jump in a plane and join us. Can you imagine, spending your St Patrick's weekend at one of the numerous parades all over the country, no matter where you are you won't be far from a Parade. Every Village, Town or City in the country have parades, then finished with a turf fire and a nice glass of Irish Coffee.
To spend Patrick's Day 2022 with us here in Ireland just contact us and we'll get you sorted.